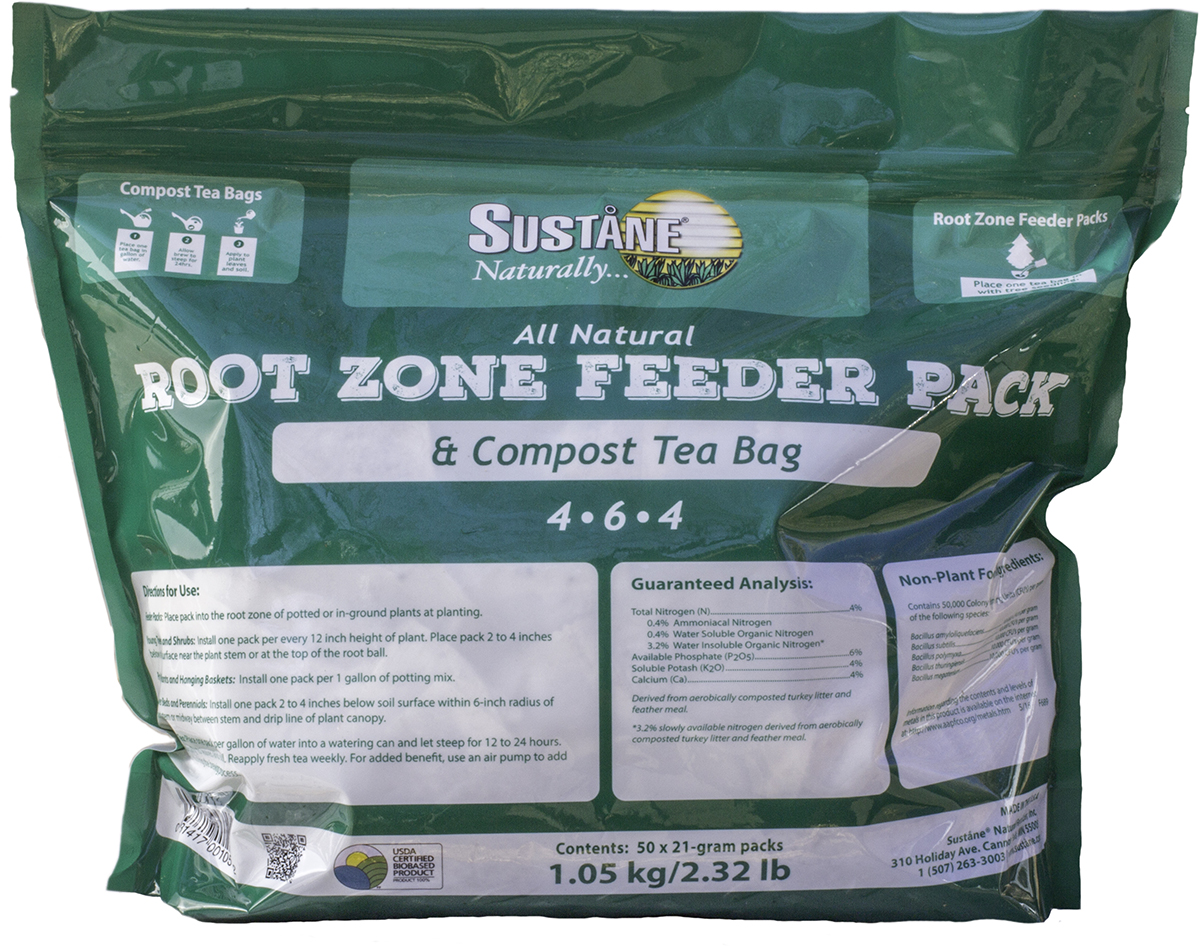 Suståne® 4-6-4 Root Zone Feeder Packs and Compost Tea Bags.
Description:
Designed for dual application for the avid organic gardener. This permeable fertilizer pack can be left to steep in a watering can overnight to make a Compost Tea brew for topical application; or installed in the soil or potting mix as a Root Zone Feeder Pack. Suståne 4-6-4 Root Zone Feeder Packs: Provide single dose applications of Suståne organic slow release nitrogen fertilizer. Suståne Feeder Packs are designed to provide lasting plant nutrition in a completely biodegradable filter pack
---
Recommended Use:
Suståne 4-6-4 Root Zone Feeder Pack is designed for use in all flowers, trees, shrubs and perennial plantings including landscape areas, potted plants and hanging baskets. Also for brewing compost tea to be applied to plant leaves and soil.
---
Features of Suståne 4•6•4 Root Zone Feeder Packs:
Assures controlled dose appliacitons
Can be used to brew a high quality compost tea.
Easy and safe to use.
Made from Suståne nutrient dense compost based fertilizer
One to two applications per plant per growing season.
Low burn potential, nutrients release gradually over time.
In permeable biodegradable paper filter packets.
No measuring, no special equipment, no waste.
Benefits of Suståne 4-6-4
Increases the nutrient and water holding capacity of the soil
Strengthens plants tolerance against hot dry conditions
Promotes greater root development
Improves buffering against changes in soil pH
Increases the soil's ability to suppress plant pathogens
Increases soil porosity and stability for greater root development and water holding capacity
Always Safe for Plants, People and the Environment
Manufactured by Suståne in the USA at an EPA permitted facility.
Pathogen and weed free, no sewage sludge, blood or meat products. Allowed for export to over 60 countries world wide.
Aerobic composting eliminates animal and rodent attraction to application site.
Contains naturally occurring beneficial bacteria and fungi that are necessary to begin nutrient life cycle in poor soil.
Suståne is fully composted eliminating the need for sterilization, permitting a healthy environment for beneficial microbial populations.
---
Guaranteed Analysis
Total Nitrogen (N)
4%
0.4% Ammoniacal Nitrogen
0.4% Water Soluble Organic Nitrogen
3.2% Water Insoluble Organic Nitrogen*
Available Phosphate (P2O5)
6%
Solble Potash (K2O)
4%
Calcium (Ca)
4.00%
Magnesium
1.00%
Copper
0.05%
Sulfur
3.00%
Total Plant Nutrition
| | |
| --- | --- |
| Iron | 0.5% |
| Manganese | 0.05% |
| Zinc | 0.05% |
| Humic Acid | 7% |
| Organic Matter | 50% |
| pH | 6.8 |
| Carbon:Nitrogen (C:N) | 4:1 |
| Bulk Density lb./cu. ft | 36 |
| Salt Index (scale 1-100) | 4 |
| % of Total N as Slow Release | 80% |
Derived from aerobically composted turkey litter, feather meal, and sulfate of potash.
*3.2% slowly available nitrogen from aerobically composted turkey litter and feather meal
Directions for Use: Simply insert Feeder Pak(s) into the root zone of potted or bed grown plants at planting or re-potting time or during routine fertilization maintenance after plant establishment.
Potted Plants and Hanging Baskets: Install one Suståne Feeder Pak per 1-gallon pot inside root zone; two paks per 2-gallon pot; three per 3-gallon pot.
Flower beds and Perennials: Install one Feeder Pak 2-4 in. below soil surface within 6-inch radius of plant stem or midway between stem and drip line of plant canopy.
Shrubs and Young Trees: Install one Feeder Pak per every 12 in. height of plant (2 for 24 in. ht., etc.) 4 - 6 in. below soil surface midway between stem and drip line.
Compost Tea: Place 1 - 3 tea bags into a 1 gallon watering can, let steep for 12 to 24 hours, apply topically to leaves and soil. Use or discard within 36 hours. Reapply fresh tea weekly.