Suståne 4-6-4 Organic Granulated Slow Release Nitrogen Fertilizer for indoor and outdoor cannabis cultivation
Organic plant establishment and supplemental fertility for bloom
Suståne 4-6-4 is an organic slow-release granular fertilizer and soil builder ideally suited for plant establishment. Suståne 4-6-4 provides high phosphorus and balanced N and K and Ca for bud formation during flowering. Suståne 4-6-4 is specifically formulated to be gentle on plants, making it a go-to fertilizer for starting seed and applying to seedlings and transplants. The benefits of Suståne 4-6-4 granular can be delivered as a granular soil amendment by soil incorporation or topdress or used to brew compost tea and used as a liquid feed supplement. Allowed for use in the production of certified organic crops. Trusted by nurserymen, master gardeners, farmers, and professional growers around the world.
Suståne 4-6-4 works by replenishing the soil with a rich supply of humus (stabilized organic matter) and the essential nutrients required for sound and long term fertility programs. Suståne 4-6-4 provides a combination of slow-release nutrients and organic substances that improve soil health. Derived from biologically stable compost plus natural potash and feather meal.

While synthetic fertilizers supply plant growth nutrients, they do not supply the organic matter required to maintain quality growth. Using fully composted natural fertilizers increases the levels of beneficial microbial activity, which in turn converts nutrients into plant-available forms.





Benefits of Suståne 4-6-4
Adds approximately 5% humates by volume, increasing cation exchange and organic matter
Increases the nutrient and water holding capacity of the soil, strengthening plant tolerance to hot dry conditions
Promotes healthy root development
Improves buffering against changes in soil pH
Increases the soil's ability to suppress plant pathogens
Increases soil aggregate stability, porosity, and quality for greater root development and water holding capacity
Suitable for arid and saline soils
Dry granulated formulation equates to lower transportation and application costs
Provides primary and secondary (macro and micro) nutrients necessary for plant growth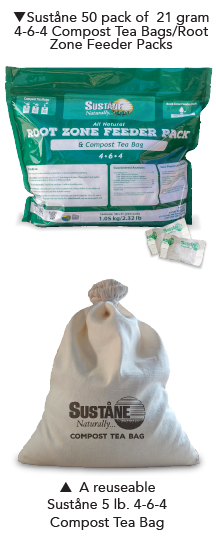 Here are four recommendations for the use of Suståne 4-6-4 in different cannabis growing environments:
Indoor Grow Example: 1 hobbyist/homeowner
After the plants starting blooming, top dress every four weeks with 1 tablespoon (11g) of Suståne 4-6-4 per gallon of potting mix up until the final flush (e.g. 2 to 3 weeks before harvest). For best results, gently mix the additional Suståne fertilizer into the top inch of potting mix and then water in.
Indoor Grow Example 2: commercial warehouse or Greenhouse in Potting Mixes
Note, During Bloom, top dress with Suståne 4-6-4 at a rate of 1 to 2 tablespoons (11 to 21 g) per dry gallon of media every three to four weeks.
Outdoor Grow Example 3: (<2 acres)
Top dress with
Suståne 8-2-4
until initial bloom and then use Suståne 4-6-4 until no later than 3 weeks before harvest.
Indoor/Outdoor Example 4: Suståne 4-6-4 Compost Tea
is easy to use as a liquid organic fertilizer supplement: no fuss, no mess, no measuring. 4-6-4 Compost Tea delivers beneficial microbes in the tea which convert nutrients to plant-available forms when added to soils and can help protect plants from pests and pathogens and can increase yield with minimal effort. Suståne 4-6-4 Compost Tea is simple to prepare. Add two 21 gram tea bags per gallon (42 grams), or a Suståne reusable 5 lb. 4-6-4 Compost Tea Bag in 100 gallons of water. Brew with aeration for 24 to 48 hours at 60 to 85 degrees F°. For Enriched Compost Tea, just mix in
Suståne Hi-N 12-0-1
at 1 tablespoon per gallon or 1 lb. per 100 gallons during the last two hours of the brew cycle.
For more detailed information on grow programs, check out our
resource downloads here.
Soil Preparation:
Light, High Sandy Soil: 20 lb. per 100 ft2 of bed
Medium, Clay Loam Soil: 15 lb. per 100 ft2 of bed
Heavy, Silty, Clay Loam: 10 lb. per 100 ft2t of bed
Preplant - Broadcast and Incorporate into top 4 in. (5 cm) of soil
50 lb. per 1,000 ft2 or 2,200 lb. per acre
25 kg per 100 m2 or 2,500 kg per hectare
Post plant (45-60 days) - Broadcast and water in
25 lb. per 1,000 ft2 or 1,100 lb. per acre
12.5 kg per 100 m2 or 1,250 kg per hectare
Soil Preparation For Beds:
Light, High Sandy Soil: 6 lb. per 100 ft2 of bed
Medium, Clay Loam Soil: 4 lb. per 100 ft2 of bed
Heavy, Silty, Clay Loam: 2 lb. per 100 ft2 of bed
Container Mix Rates by Volume
lb. per cubic yard
kg per cubic meter
Low
Med
High
Low
Med
High
11
20
30
6.5
11.8
17.8
Low Rate: Recommended for use on salt-sensitive species; when concurrent with liquid feed; with production systems utilizing low leaching fractions (less than 10%); and when applied to heavy potting substrates (total porosity less than 65%).
Medium Rate: Recommended for use on medium feeding species; on most nursery stock and foliage plants; and when liquid feed is not performed concurrently.
High Rate: Recommended for use on heavy feeding species; with production systems utilizing high leaching fractions (greater than 20%); and when applied to light, porous substrates (total porosity greater than 80%).
Bulk Density of Suståne 4-6-4:
Rounded Measure (Volume)
Grams (weight)
Teaspoon (tsp)
Tablespoon (Tbs)
1 oz
1/4 cup
1/2 cup
1 cup
2.8
8.5
17
34
68
136
Container Topdressing Application Rates in Grams:
Container Size
Rate
5" Std.
6" Std.
1 gallon
2 gallon
3 gallon
5 gallon
7 gallon
10 gallon
15 gallon
Low
6
12
14
30
56
90
126
154
164
Med
14
26
38
78
134
216
280
372
400
High
20
38
56
118
208
330
474
570
612
These rates are intended as guidelines. Suståne encourages a trial prior to changing any fertilizer program.
Do not steam sterilize container mix after fertilizer has been incorporated.
Do not store container mix more than two weeks after incorporating fertilizer. Plant material can be damaged by salt accumulation.
Monitor electrical conductivity (EC) of container substrate throughout the production cycle.
If the mix is stored longer than two weeks, leaching container mix may be required to remove accumulated salts.
Adjust application rate as needed.
Guaranteed Analysis
Total Nitrogen (N)

0.4% Ammoniacal Nitrogen
0.4% Other Water Soluble Nitrogen
3.2% Water Insoluble Nitrogen*
4%
Available Phosphate (P(2O5)
6%
Soluble Potash (K2O)
4%
Calcium (Ca)
4%
Magnesium (Mg)
0.75%
Sulfur (S)
1%
Iron (Fe)
0.25%
Total Plant Nutrition
| | |
| --- | --- |
| Iron | 0.5% |
| Manganese | 0.05% |
| Zinc | 0.05% |
| Humic Acid | |
| Organic Matter | 50% |
| pH | 6.8 |
| Carbon:Nitrogen (C:N) | 4:1 |
| Bulk Density lb./cu. ft | 36 |
| % of Total N as Slow Release | 80% |
Derived from aerobically composted turkey litter, feather meal, and sulfate of potash.
*3.2% slowly available nitrogen from aerobically composted turkey litter and feather meal

Available Particle Sizes:
Medium Grade, 200 SGN (2.8 mm - 1.4 mm)
Fine Grade, 100 SGN (1.4 mm - 0.6 mm)
Resource Downloads
Download or view the Suståne Cannabis Brochure
Download or view the Suståne Cannabis Greenhouse Container Grow Program Overview
Download or view the Suståne Cannabis Grow Program Detail
Download or view the Suståne Cannabis Brochure Companion with product SKUS and size options