Now lawn care professionals and homeowners can achieve consistent turf performance and a beautiful healthy lawn with a 100% organic program for new sod, seeding and maintenance. Packaged in bags labeled by season one can apply the right product at the right time of the year.
Suståne's four-step program is available in 30 lb and 50 lb bags through independent garden centers and where professional lawncare products are sold. The standard recommended application rate is 11 lb. per 1000 ft2. Modify your turf fertilizer maintenance program to match turf types and different growing zones.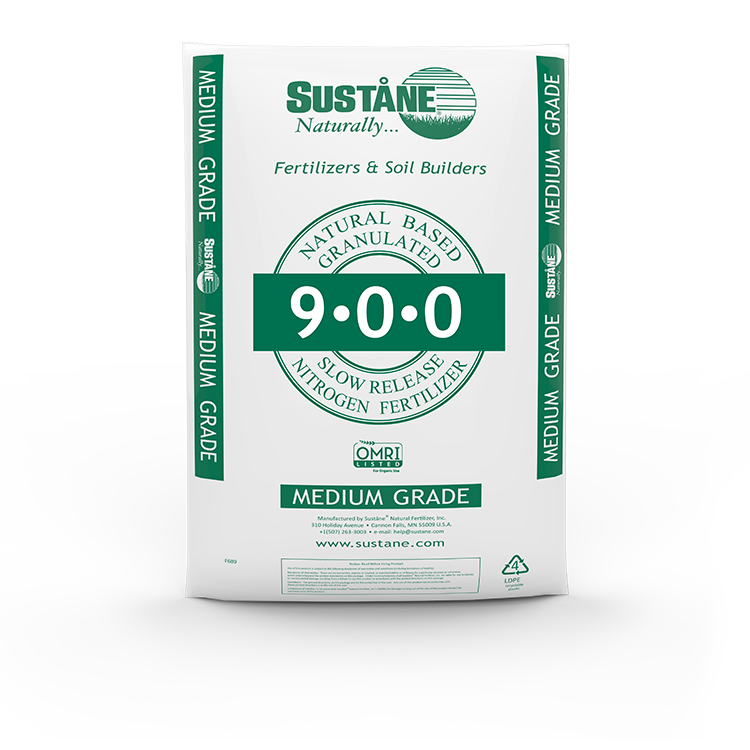 Early Spring Weed and Feed 9-0-0
Corn Gluten Meal (CGM) is a natural broad-leaf pre-emergent that helps prevent weeds from establishing in the spring. CGM is rich in Slow Release Nitrogen which helps promote thicker lawns and lasting turf color. CGM from Suståne is granulated and screened, allowing for easy and consistent application.
Apply before germination of weed seeds. A short drying period following germination helps kill the weeds before they form roots. If it does not rain for 5 days after application, water with approximately 0.25" of water and then allow the soil to dry for a period following germination. For improved weed prevention apply at a rate of 20 pounds per 1,000 ft2.
DOWNLOAD LABEL PDF DOWNLOAD OMRI CERTIFICATE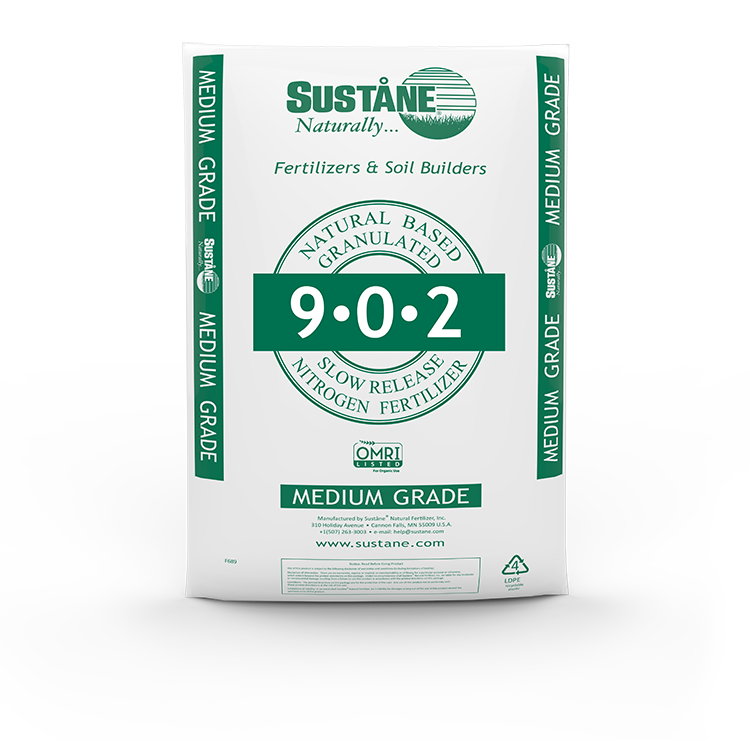 Early Summer Turf Booster 9-0-2
Suståne 9-0-2 combines Slow Release Nitrogen – which helps promote thick lawns and lasting turf color – with quickly available natural Chilean nitrate for a fast turf response in cool soils. Suståne 9-0-2 also contains two types of high-quality compost for improved soil building.
Apply in May or June. 30 pounds covers up to 5,000 ft2 Apply 6 pounds per 1,000 ft2. Apply 10 lb. per 1,000 ft2 if grass clippings are removed or if the turf is heavily used or intensively managed.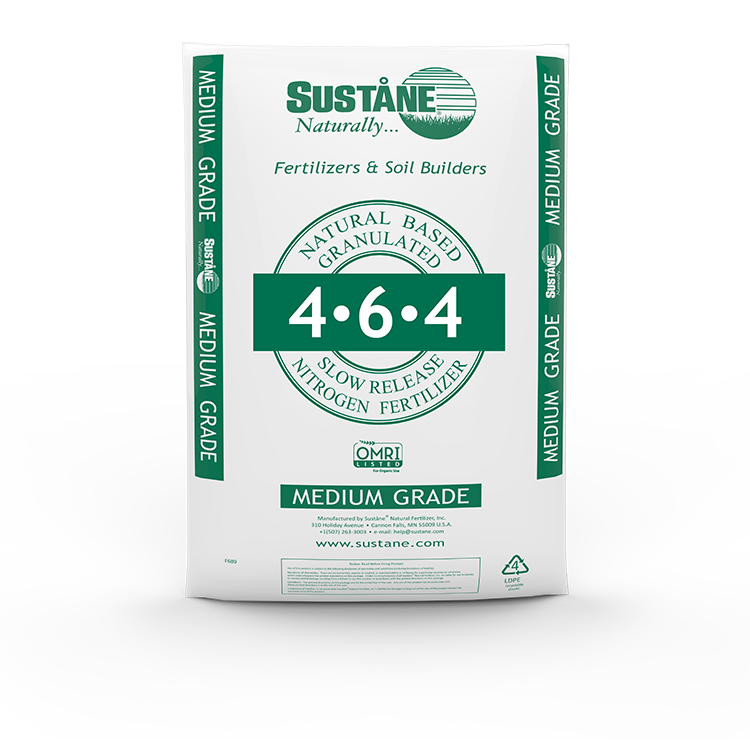 Late Summer Turf Starter and Overseeder 4-6-4
Our Turf Starter is specifically formulated to be applied directly with grass seed. Sowing additional applications of grass seed to an existing lawn is one of the best ways to promote a thick lawn free of weeds, without the use of chemicals. Suståne 4-6-4 combines high-quality compost with organic phosphorus from composted turkey litter to provide the unique conditions that grass needs in order to establish. The composting process fully stabilizes the fertilizer, making it safe so it will not burn the grass seed. This allows the nutrients and beneficial biology to be applied directly where the seedling needs it.
Apply anytime new grass seed is being established. Grass establishes best during the cool, wet weather in the spring and fall. 30 pounds covers up to 5,000 ft2 For overseeding, mix 6 pounds of Suståne Turf Starter with enough grass seed to cover 1,000 ft2 (2.9 kg of Suståne with enough grass seed for 100 m2). Apply 10 pounds per 1,000 ft2 if grass clippings are removed or if the turf is heavily used or intensively managed.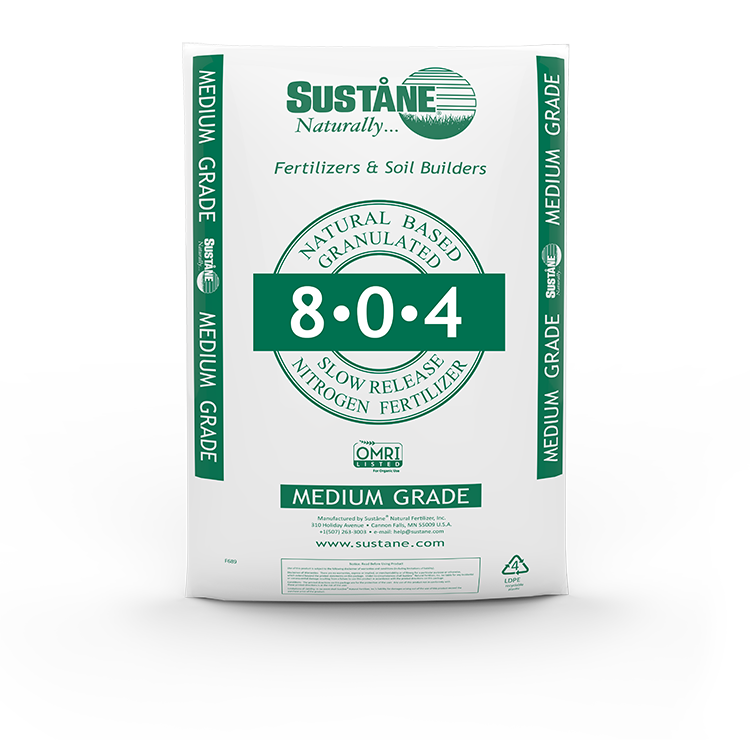 Fall Winterizer 8-0-4
Suståne's Winterizer provides the plant nutrients and carbohydrates that grass needs to prepare for winter, resulting in healthy turf and a quick spring green-up. It contains Slow Release Nitrogen so that it will not promote growth late in the fall, but will instead build up reserves for the winter. Extra potassium sulfate helps the turf build up carbohydrates and proteins, which improves cold tolerance and allows a more healthy plant survival in the winter. Our Winterizer also provides the soil-building characteristics of high-quality compost, to use the winter months to improve soil structure and health.
Apply in September or October. 30 pounds covers up to 5,000 ft2 Apply 6 pounds. per 1,000 ft2 Apply 10 pounds per 1,000 ft2 if grass clippings are removed or if the turf is heavily used or intensively managed.

DOWNLOAD LABEL PDF