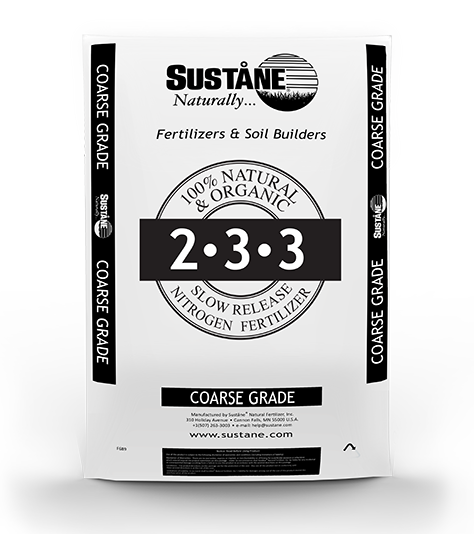 Suståne 2-3-3 Concentrated Compost
for Rebuilding Depleted Soils and Providing Rapid Vegetative Establishment for Agriculture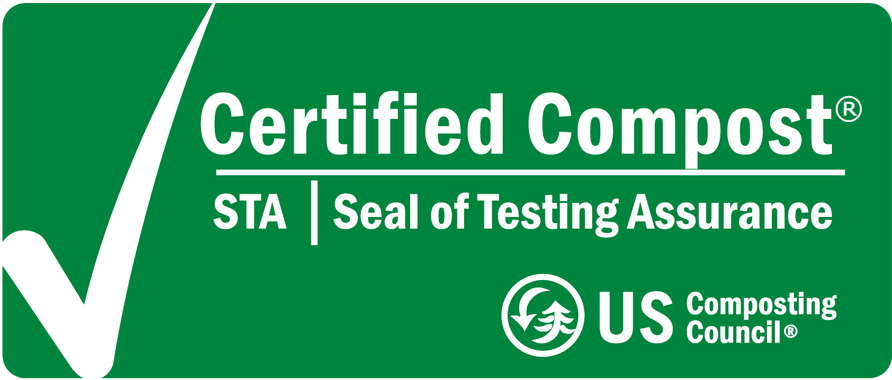 Description:
Suståne Concentrated Compost 2-3-3 provides the benefits of rich compost in a concentrated, dry form. Concentrated Compost is easy to apply and replenishes the soil with a rich supply of stabilized organic matter and essential nutrients required for quality growth.
Concentrated Compost 2-3-3 provides a combination of plant nutrients and organic substances derived from biologically stable aerobic compost.
---
Recommended Use:
For use as a general soil builder. Ideal for reclamation projects, bio-remediation, revegetation and building of disturbed or depleted soils, native plant establishment, agricultural crop land fertility, construction site vegetation, beach restoration, burn area reestablishment and mine site reclamation. Approved for use in the production of certified organic crops.
Benefits of Suståne Concentrated Compost
Provides the benefits of compost in a dry, concentrated form which minimizes transportation and application costs.
Contains all primary, secondary and tertiary nutrients for plant growth eliminating the need to apply additional fertilizer.
Adds approximately 10% humates by weight.
Low Salt Index (6) requires no delay in planting following application.
Supplies soil with 60% Organic Matter in the form of stabilized humus.
Carbon: Nitrogen Ratio (9:1) ensures no N immobilization in soil.
Increases the nutrient and water holding capacity of the soil.
Enhances the soil's ability to suppress plant pathogens.
Improves and sustains soil health.
Improves buffering against changes in soil pH.
Increases the soil's C.E.C (cation exchange capacity).
Improves soil structure, porosity, and stability leading to greater root development, infiltration, and soil micropores.
Always Safe for Plants, People, and the Environment
Manufactured by Suståne in the USA at an EPA-permitted facility.
Pathogen and weed/seed-free, no blood, bone, or meat products.
The only organic allowed for export to over 50 countries worldwide.
USDA NOP, COR, EU, and JAS organic compliant.
Aerobic composting eliminates animal and rodent attraction to the application site.
Suståne will not attract flies, pests, or other insects.
Suståne is fully composted - not sterilized; enhancing the soil environment for beneficial microbial populations.
---
Low Carbon Footprint
Made from natural renewable agricultural resources, has a low carbon and greenhouse gasses (GHG) footprint.
Suståne complies with regulatory mandate and exceeds most health and safety standards.
The Suståne process avoids the generation of more significant greenhouse gasses such as methane and nitrous oxide.
With Suståne the energy required to transport is reduce 4:1 per kg. vs. wet compost.
Granulation simplifies handling allowing more accurate applications and stays where applied.
---
Crop Production:
Timing and Methods of Application
Fall application, post-harvest. Broadcast apply followed by light incorporation.
Spring application, pre-plant. Broadcast apply followed by light incorporation.
During planting, it can be applied by grain drills, banded or air seeders, direct with seed.
During cultivation, apply next to row or use Suståne 8-2-4 for higher N demanding crops.
Broadcast Application Rates:
Low Rate: apply 1,200 lb. per acre
Medium Rate: apply 2,000 lb. per acre
High Rate: apply 2,800 lb. per acre
---
Preparation for Gardens, Landscapes, and Agricultural Crop Land:
Suståne Concentrated Compost is intended as a general soil builder for broadcast application and improving soil organic matter levels, cation exchange capacity and enhancing and diversifying soil biological activity levels.
Soil Preparation:
Light, High Sandy Soil: 14 lb. per 100 ft2 of bed
Medium, Clay Loam Soil 10 lb. per 100 ft2 of bed
Heavy, Silty, Clay Loam 7 lb. per 100 ft2 of bed
Guaranteed Analysis
Total Nitrogen (N)
2.0%
0.2% Ammoniacal Nitrogen
0.2% Water Soluble Organic Nitrogen
1.6% Water Insoluble Organic Nitrogen*
Available Phosphate (P2O5)
3%
Soluble Potash (K2O)
3%
Calcium (Ca)
5%
Magnesium (Mg)
1%
Iron
0.5%
Total Plant Nutrition
| | |
| --- | --- |
| Humic Acid | 7.6% |
| Organic Matter | 50% |
| pH | 7.0 |
| Carbon: Nitrogen (C:N) | 9:1 |
| Bulk Density lb./cu. ft | 38 |
| Moisture content | 5% |
| % of Total N as Slow Release | 80% |
| Electrical Conductivity | <10dS/m |
| Cation Exchange Capacity (C.E.C.) | 104 meq/100g |
Derived from aerobically composted turkey litter and green waste compost.
*1.6% slowly available nitrogen from aerobically composted turkey litter and green waste compost.
---
Available Particle Sizes:
General Coverage:
40 lb. covers 1000 ft2 @ 1 lb. N per 1000 ft2 (44 lb. N per acre)
20 kg covers 100 m2 @ 0.5 kg N per 100 m2 (50 kg N per hectare)
Rates:
Apply 40 lb. per 1000 ft2
Apply 200 g per 1 m2