BOLSTER GRANULAR 4-4-4 + Iron plus Beneficial Fungi is a granulated professional turfgrass and landscape fertilizer.
From the leaders in soil health and plant care, Suståne has developed a combination product that deploys the best components for Rapid Plant and Turf Establishment. Four proven components to create:
---
BOLSTER GRANULAR 4-4-4 + Iron
contains a powerful, synergistic blend of mycorrhizae, growth factors, and plant biostimulants proven to promote rapid root development, superior growth, and protect roots from drought, stress, transplant shock, pathogens, and soil contaminants.
---
Recommended Use:
BOLSTER GRANULAR 4-4-4 + Iron is designed for all turfgrass and landscape plantings. Bolster G is during core aerification of golf course greens and other fine turfgrass. It is also used in the soil profile during new greens construction and landscape bed preparation as well as in container mix substrates. Bolster G must be incorporated into the root zone to achieve the full benefit.
---
BOLSTER GRANULAR 4-4-4 + Iron
25 years of applied research have consistently proven Suståne Natural Fertilizers to be the leader in plant establishment, soil physical improvement, and biological disease suppression. Suståne Triple Four is made from a thorough, aerobic composting process unlike any other organic fertilizer on the world market today. This basic Suståne contains 3% organically chelated iron plus all major and minor elements known to be essential for plant photosynthesis. This is an 80% Slow Release Nitrogen ratio natural fertilizer rich in humic substances, is foolproof, and will not cause "fertilizer burn" to plant materials. To improve on Basic Suståne's unsurpassed plant establishment, the following components have been added:
---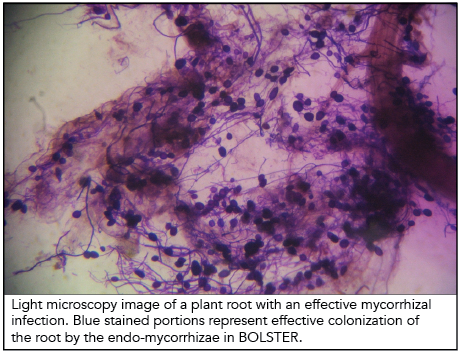 VA mycorrhizae
Vesicular Arbuscular Mycorrhizal Fungi: Glomus intraradices, Glomus etunicatum, Glomus deserticola, and Glomus clarum. Guaranteed a minimum of 3.52 propagules per g. Mycorrhizal presence equates to "Healthy Soils". It affects available soil nutrition, the physical structure of the soil, and the number of and types of other organisms present in the soil. "Mycorrhizae" refers to the species of fungi that form beneficial associations with plants. It is a "Facilitator" that brings nutrients to plant roots, exudes "Glomalin" to improve soil structure, and actually fill up available entry sites along roots to inhibit pathogens from attacking. Mycorrhizal fungi are a critical component of healthy soils.
---
BOLSTER Plant Biostimulant
Ascophyllum nodosum seaweed, humic acid, and soluble carbohydrates. BOLSTER from Suståne prepares plants for stress conditions, increasing root mass and depth without a flush of top growth. BOLSTER has demonstrated improved drought resistance, increased chlorophyll production, and delayed senescence. It also increases plant salt tolerance in saline soils and irrigation water high in salts; increases plant health and vigor to offset infection of certain diseases and to guard against the effects of plant-parasitic nematodes. Chelated iron and plant hormones in BOLSTER enhance seedling establishment and improve color.
---
Features of BOLSTER GRANULAR 4-4-4 + Iron:
Contains beneficial V.A. Mycorrhizae.
Contains BOLSTER Plant Biostimulant.
Contains Ascophyllum nodosum seaweed.
BOLSTER G is extremely safe and will not burn or discolor turfgrass.
Promotes rapid root development.
Protects roots from drought stress.
Reduces transplant shock.
Helps protect roots from some pathogens and soil contaminants.
Benefits of BOLSTER GRANULAR 4-4-4 + 3Fe
Provides quick green up followed by six to eight weeks of even color and growth.
Increases the nutrient and water holding capacity of the soil.
Strengthens plants tolerance against hot dry conditions.
Promotes greater root development.
Improves buffering against changes in soil pH.
Increases the soil's ability to suppress plant pathogens.
Increases soil porosity and stability for greater root development and water holding capacity.
Always Safe for Plants, People, and the Environment
Manufactured by Suståne in the USA at an EPA permitted facility.
Pathogen and weed-free, no blood or bone products. Allowed for export to over 60 countries worldwide.
Aerobic composting eliminates animal and rodent attraction to the application site.
Contains naturally occurring beneficial bacteria and fungi that are necessary to begin the nutrient life cycle in poor soil.
Suståne is fully composted eliminating the need for sterilization, permitting a healthy environment for beneficial microbial populations.
Available Particle Sizes:
Medium Grade, 200 SGN (2.8 mm - 1.4 mm)
Fine Grade, 100 SGN (1.4 mm - 0.6 mm)
Coverage:
50 lb. covers 2500 ft2 @ 1 lb. N per 1000 ft2 (44 lb. N per acre)
22.67 kg covers 232 m2 @ 0.5 kg N per 100 m2 (50 kg N per hectare)
Rates:
Apply 20 lb. per 1000 ft2
Apply 100 g per 1 m2
---
Turf Establishment, Seeding, New Lawn Construction Laying Sod, and Sprigging:
Turf establishment accelerates with BOLSTER GRANULAR from Suståne. A complete package containing Slow Release Nitrogen chelated micronutrients, mycorrhizal, and BOLSTER Plant Biostimulant. BOLSTER GRANULAR has been demonstrated time and again to surpass synthetic turf starter fertilizers and other sources of humates and plant biostimulants.
Preplant - Broadcast and Incorporate into the top 4 in. (5 cm) of soil
50 lb. per 1,000 ft2 or 2,200 lb. per acre
25 kg per 100 m2 or 1,250 kg per hectare
NOTE: Mycorrhizae must make contact with plant roots to remain viable. BOLSTER GRANULAR is not recommended for topdressing application
---
Uses & Application:
Greens & Tees
Fairways, Athletic Fields, Parks & Lawncare
Rate (lb./1,000 ft2)
Application Frequency
Rate (lb./1,000 ft2)
Application Frequency
Early Feeding
N/A
N/A
N/A
N/A
Turf Establishment
20-30
2
12-25
2
Summer Stress/Disease Prevention
N/A
N/A
N/A
N/A
Core Aerification
12-25
1-2
12-20
2
Overseeding
12
At Overseeding
12
At Overseeding
Dormant Feeding
N/A
N/A
N/A
N/A
Snow Mold
N/A
N/A
N/A
N/A
---
Land Management, Native Restoration & Erosion Control Programs:
Hydroseeding
For 44 lb. of N per acre apply 1100 lb.
For 90 lb. of N per acre apply 2200 lb.
For 130 lb. of N per acre apply 3400 lb.
Soil Preparation
Light, High Sandy Soil: 20 lb. per 100 square feet of bed
Medium, Clay Loam Soil: 15 lb. per 100 square feet of bed
Heavy, Silty, Clay Loam: 10 lb. per 100 square feet of bed
(Hydroseeding : Mix with water solution at a ratio of 4 lb. Suståne Bolster Granular to 1 gallon of water or 2 tons per 1,000-gallon tank)
---
Incorporating into Potting Soil Mixes and other Container Substrates:
Suståne Bolster Granular provides a constant release of nutrients when used with container substrates with an average temperature of 70oF / 21oC. When determining application rates consider all cultural practices including irrigation, container substrate physical characteristics, and growing environment.
---
Container Mix Application Rates:
Container Mix Rates by Volume
Rounded Measure (Volume)
Grams (weight)
Teaspoon (tsp)
Tablespoon (Tbs)
1 oz
1/4 cup
1/2 cup
1 cup
11
20
30
6.5
11.8
17.8
Low Rate: Recommended for use on salt-sensitive species; when concurrent with liquid feed with production systems utilizing low leaching fractions (less than 10%) and when applied to heavy potting substrates (total porosity less than 65%).
Medium Rate: Recommended for use on salt-sensitive species; when concurrent with liquid feed with production systems utilizing low leaching fractions (less than 10%) and when applied to heavy potting substrates (total porosity less than 65%).
High Rate: Recommended for use on heavy feeding species; with production systems utilizing high leaching fractions (greater than 20%); and when applied to light, porous substrates (total porosity greater than 80%).
---
Bulk Density of Suståne Bolster Granular:
Container Mix Rates by Volume
Rounded Measure (Volume)
Grams (weight)
Teaspoon (tsp)
Tablespoon (Tbs)
1 oz
1/4 cup
1/2 cup
1 cup
2.8
8.5
17
34
68
136
Guaranteed Analysis
Total Nitrogen
4%
0.4% Ammoniacal Nitrogen
0.4% Other Water Soluble Organic Nitrogen
3.2% Water Insoluble Nitrogen*
Available Phosphate (P2O5)
4%
Soluble Potash (K2O)
4%
Iron
3.00%
Calcium
4.00%
Magnesium
0.5%
Sulfur
1.00%
Also contains other non-plant food ingredients
Seaweed Extract (Ascophyllum nodosum)
.1.0%
Vesicular Arbuscular Mycorrhizae
1.75%
Guaranteed minimum of 3.52 propagules per gram:
Glomus intraradices
2.47 prop./g
Glomus etunicatum
0.35 prop./g
Glomus deserticola
0.35 prop./g
Glomus clarum
0.35 prop./g
Total Plant Nutrition
| | |
| --- | --- |
| Humic Acid | 6.3% |
| Seaweed extract (Ascophyllum nodosum) | 1% |
| Organic Matter | 50% |
| pH | 6.8 |
| Carbon: Nitrogen (C:N) | 4:1 |
| Bulk Density lb./cu. ft | 39 |
| % of Total N as Slow Release | 80% |
Derived from aerobically composted turkey litter, methylene urea, and sulfate of potash.
*3.2% slowly available nitrogen from aerobically composted turkey litter and methylene Urea